Attention all FS2Crew iFly 737NG owners:
First, thank you for your support! The iFly 737NG Edition of FS2Crew has proven to be quite popular, which goes to show that there is still a strong market for FS9 products.
I'm happy to announce that Version 1.1 of the iFly Edition is now available!
Click here to visit the FS2Crew iFly Product Info Page!Important notes:
1. Version 1.1 is built into the main installer.
2. You will need to login to your FS2Crew account and re-download the product.
3. You do NOT need to uninstall V1.0 first.
4. The 1.1 update is NOT available as a stand-alone update.
You can tell if you have V1.1 installed when you press the Power Button on the FS2Crew Main Panel.
Change Log:
V1.1 clears all known bugs reported post V1.0.
FIXED - Missing sounds for Start Crew and Ground Workers. This was computer specific it seems, but we managed to nail it!
FIXED - "Reverse Lights Green" trigger logic.
CHANGED - The FA will now contact you sooner during the gate arrival phase to inform you that the slides have been disarmed.
NEW FEATURE - FO Flows text now shown in 'Orange' on the Main Panel. This helps make them stand-out more so you know when the FO is perform an action flow.

NEW FEATURE - Pushback distance now indicates if the units are in feet or meters depending upon what is selected in the iFly Preferences menu for units.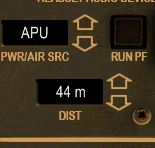 NEW FEATURE - Bleeds Off Landing. You would typically make a bleeds off landing if executing a single engine-landing or if you require extra thrust during a go-around due to obstacle/altitude issues.
BLEEDS OFF LANDING PROCEDURE:
1. Select 'Bleeds Off' in the Approach Brief (this is a new option).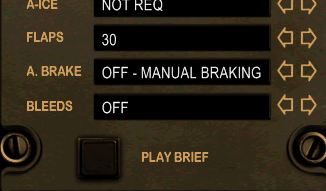 2. After passing 10,000 in the descent, the FO/PNF will execute the following procedure:
- APU - On
- Wait 3 Minutes
- WAI - Off
- Right Pack - Auto
- Isolation Valve - Close
- Left Pack - Auto
- Left Engine Bleed Air - Off
- APU Bleed - On
- Right Engine Bleed Air - Off
3. During the FO's After Landing flow, the FO will restore the bleeds.
Again, thank you for support!
All the best,