NOTE: The iFly 737NG is now about 10 years old and during that period of time the software has received major updates at no cost to users. Since the last update, SP3.2.1, the aircraft has received some fixes/features in SP's 3.2.3, 3.2.3.2 and SP3.2.3.4. There may some spin-offs from ongoing work added in the future, but users should expect that any item not currently modelled or not correctly modelled will stay as is. The software is now at end of life and soon will be in the legacy product category. We will continue to provide support for the current version of the iFly 737NG.
Hi Everyone,
The 737NG Pro (CBE) for Prepar3D v4 (64-bit) is now available.
This is a separate installation and will coexist with the P3Dv3 version of the iFly CBE.

An installation of the base version iFly 737NG for P3Dv4 is required.


PREPARATION:
Before downloading and installing any files from the Flight1 servers or installing from a DVD, please make sure you turn off:
1. All Antivirus Software
2. Windows Defender
3. Windows 10 Defender security users set "Real Time Scanning" off.

4. For Vista, Windows 7 and higher, confirm that UAC (user account control) is set to the lowest level and leave it there.
http://ifly.flight1.net/forums/forum_posts.asp?TID=13412&title=windows-user-access-control
And:
5. Exclude the entire P3Dv4 folder from antivirus and malware scans.
If running the CBE Client on a separate pc, also exclude that folder from antivirus and malware scans.


IMPORTANT: If this is your first installation of the CBE, you must confirm that all base iFly 737NG aircraft systems are operating normally prior to installing the CBE.

New Customer Installation
After the base product is properly installed, follow these steps (NOTE: Be certain your pc is prepared as specified above):
1. Download the Flight1 E-Commerce install wrapper (with the red plane icon) from the following link: 413MB
http://flight1.100megabyte.com/iFly-737NG-P3Dv4-Pro.exe
2. Right click and Run the Flight1 E-Commerce install wrapper (iFly-737NG-P3Dv4-Pro.exe) "As Administrator".

3. Go thru the E-commerce process and purchase the product. US$ 595.00
4. After the purchase is complete, the installer will unpack a zip file to your computer. There are two files in this zip and they are unpacked to C:\iFly Development Team:
- The main 737NG CBE software installer (iFly-737NG-P3Dv4-Pro-3.2.3.exe), which must be installed on the pc where P3D v4 is installed.

- The client software installer (iFly-737NG-P3Dv4-ProClient-3.2.3.exe). The client may be installed on the P3D pc or on a separate client pc(s). If the client is installed on separate pc(s) a functioning network is required (wireless networks are not recommended).
5. On completion of the installation, the F1 Activation Tool will pop up.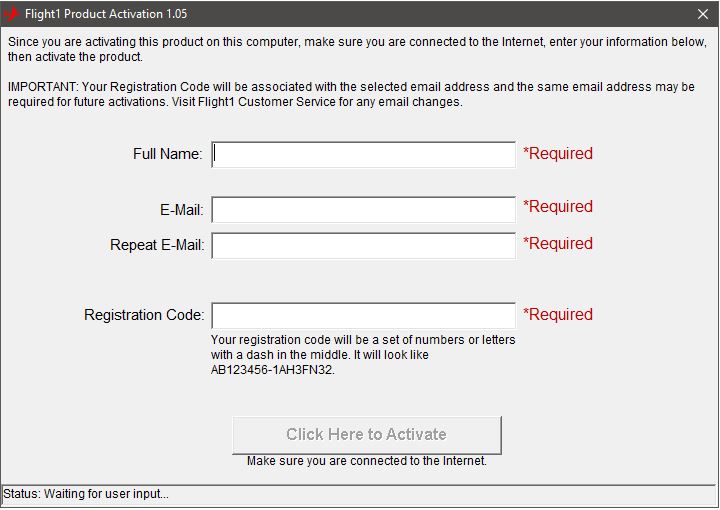 Complete the Fields with the same Full Name and Email you used during the E-Commerce purchase process. You will see the Registration Code on the confirmation screen during purchase, or find it in the Proof of Purchase.htm that was created and extracted to this folder: C:\iFly Development Team. You will also find it in the confirmation email that was sent to you on completion of the purchase.
If you misplace this Registration code, you can retrieve it by using the Flight1 Automated Self Help Services here:
http://www.flight1.com/view.asp?page=wrapperservice
Important Note: The FSUIPC installer is no longer included with the iFly Prepar3D product installers. This is because Lockheed Martin is actively changing their product, which causes errors due to incompatible versions of FSUIPC. You must keep FSUIPC updated by downloading current versions of FSUIPC 5 from:
http://forum.simflight.com/topic/80977-updated-modules/
The advanced iFly autobrake system and ND display of TCAS traffic from either FS internally generated traffic or IVAO/VATSIM traffic requires a functional version of FSUIPC 5, either freeware or registered version.
Please see the 737NG Home Cockpit Manual which installs at <flight simulator>\iFly\737NG> for CBE gauge setup and configuration.
Existing Prepar3D v3 Customers:
Important Information: Flight1 has ended support for product .key files. We are now only supporting using an account for reinstallation. Please be aware of this. If you do not have a Flight1 account, please see here: https://www.flight1.com/login.asp
It is important that you create your Flight 1 account with the same email address you used when you originally purchased the iFly product. If you no longer have access to the original purchase email address you can create your Flight 1 account with your current email address. Then submit a ticket to Flight 1 (https://www.flight1.com/ticket.asp ) asking to change your email address from the one used during the original purchase to your current email address. NOTE: When using the ticket system to change an email address, you must submit your full billing information when you request the change: (1) Complete Name (2) Full Address (3) At least one order number associated with the preceding information (4) Email address associated with the order.
1. If you are an existing Flight1 P3D v3 iFly 737NG Pro (CBE) customer, you can use your Flight 1 Account to upgrade to the P3D v4 iFly 737NG CBE. See the instructions at the following link: http://www.flight1.com/ticket.asp?supportid=11 Scroll down to the section "If using the Flight1 Wrapper to reinstall:"
2. Use your Registration code to activate the product as explained above under "New Customer Installation"
3. If you need your order number, need to reactivate your order due to too many installations or any other support issue, then head over to Flight1 support and use the automated self-help system here:

Flight1.com E-Commerce Software Wrapper and Product Activation Support:
http://www.flight1.com/view.asp?page=service
Special Arrangement and FSX Pro(CBE) customers -- additional information:

1. The above process applies with one additional step:
During the E-Commerce purchase process, you can apply a special discount coupon allowing you to purchase the product at a reduced cost of US$129.95. You need to apply the Registration code from your FSX Pro (CBE) package or supplied via special arrangement to be eligible for this discount.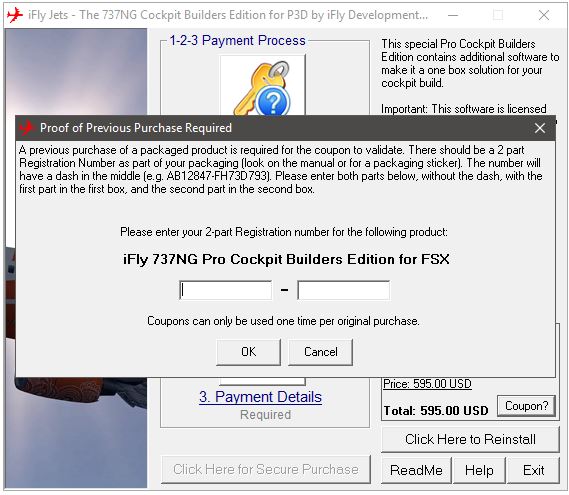 The discount coupon is here:
http://www.flight1.com/coupons/737Pro-P3D-v3X.zip
2. If you have any problems during purchase, with the coupon or need help with your Registration Code, then submit a support ticket to Flight1. Explain your situation in detail and they will assist you. http://www.flight1.com/ticket.asp
IMPORTANT: After CBE installation is complete, to receive support you MUST download and install the current version of the software, SP 3.2.3.4: http://ifly.flight1.net/forums/service-pack-3-2-3-4-for-p3d-cbe_topic18017.html
Support:

For product support, please ensure that you register your original 737NG P3D aircraft purchase to obtain access to the Licensed Members forums. See here to register for product support: http://ifly.flight1.net/forumreg.htm
No product related support is provided in the General Forum.
This software is licensed for private-home use only. Not for any commercial or professional use. Please contact Flight1 if you want to use this software in a professional environment.
http://www.flight1.com/ticket.asp

Have fun and happy iFlying!